Geosynthetic Composite Liners for Brine Ponds
serving the NATURAL GAS STORAGE industry
Lone Star NGL
20 acres of an advanced double-lined geosynthetic liner system featuring a drainage layer and a conductive primary liner.
View our Projects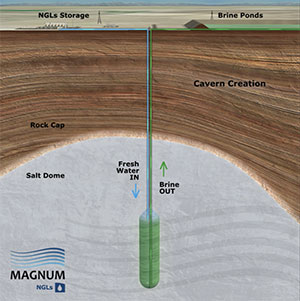 Natural gas is colorless, odorless, and a gaseous hydrocarbon that is most commonly stored underground, and under pressure, in three types of facilities. These are: (1) depleted reservoirs in oil and/or gas fields, (2) aquifers, and (3) salt cavern formations. According to the U.S. Federal Energy Regulatory Commission (FERC), depleted oil and gas reservoirs account for 87% of the total storage capacity, aquifers (10%), and the remaining 3% using salt caverns. 
Specific to the use of salt caverns, the industry uses water to control the flow of the natural gas to and from the salt cavern.  Pumping freshwater into the cavern pushes the natural gas out, while extracting the brine water draws the natural gas into the cavern for storage.
The resulting brine water (water that is part salt) is stored above ground in ponds referred to as as brine ponds. To protect the brine water that is stored above-ground from possibly leaching into the soil, ESI installs advanced double-lined geosynthetic systems.  A typical geosynthetic system may consist of a geocomposite placed directly over a subgrade, a secondary HDPE geomembrane, a geonet drainage layer topped with a conductive HDPE primary geomembrane liner.  The conductive properties of the primary liner permits the ability to quickly identify and remediate pinholes in the geomembrane that may cause leaks.
Construction quality assurance (CQA) by a third-party during and after construction ensures that the project is completed as designed. 
Industry References & Resources: