ESI's 15th Annual safety training was a major success!
ESI held its annual supervisors meeting the week of February 19th, 2018 at corporate headquarters In Baton Rouge, LA.  The theme of the meeting was "Know Safety…. No Accidents".  Safety education was again ESI's main focus this year, as emphasized continually during our classroom sessions, hands-on training and social hours.
Safety training…
David Nolting, ESI's Corporate Health & Safety Manager, updated the supervisors OSHA 1926 CFR 29, 10-Hour construction certification in a classroom environment. David is an Authorized OSHA Outreach Trainer, allowing him to provide in-house training to ESI employees for OSHA 10 and 30-hour construction safety classes.
ESI also hired an outside training service to certify our supervisors on operating skid steers and forklifts. This was accomplished in both a classroom environment and actual operation of each piece of equipment in ESI's yard. During this time David was certified to be an in-house instructor and can now certify all of our operators in the future.
The supervisors also renewed their First Aid and CPR in a class environment including the newest techniques using CPR.
As the industry's leader in the installation of geosynthetics, ESI continually strives to also be the leader in Health and Safety.  ESI is proud of our Health and Safety record and believes this is attributed to our philosophy that every accident is preventable.  ESI has a "Zero Accident Performance Pledge" which is embraced from our President down through our field operations. ESI believes and again stressed to all employees during training, the following core values:
EVERY EMPLOYEE HAS STOP WORK AUTHORITY
All accidents are preventable;
Zero Accident Performance is achievable through proper planning, tasking, and execution of the work plans;
ESI's employees will endeavor to understand how to safely perform each task assigned, and will perform each task in a safe manner;
ESI believes in continuous improvement;
ESI will help fix things that are wrong; and
ESI will immediately report all incidents, including near misses. ESI believes investigating near misses provides an opportunity for improvement before an accident occurs.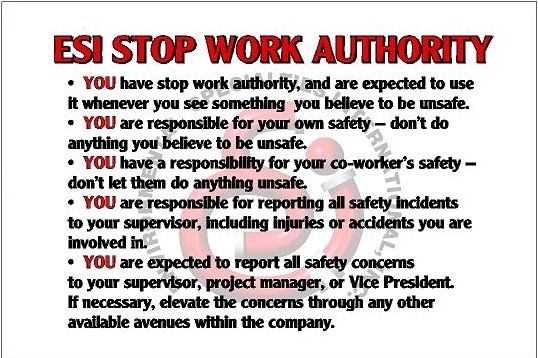 This is again emphasized through internal communications with postings in our offices and on job sites, and through regular internal communications and discussions.
Other Activities
In addition to the safety training, ESI presented an award to Dale Story for the Supervisor Photo of the Year.  The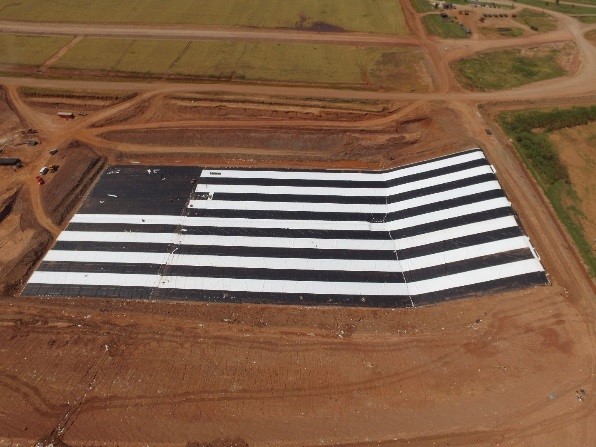 photo was an overhead drone shot of a new cell his team constructed at a landfill site in Texas.  What made this project and photo unique was that the customer asked Dale's team to use previously purchased white HDPE liner with newly purchased black HDPE liner.  Dale's team created an American flag representation from the materials.  The photo was previously posted on our website and social media and titled "God Bless America!".  Nelson Miller, the Waste Connections site manager, gave a shout out to Dale and his crew stating, "Yall did an amazing job, special thanks to Dale and his amazing group of guys and gals!"
While the photo captures the pride in our American flag, it also captures the teamwork and relationship between our team and our customer.
The supervisor's training week ended with two intensive days of training by DemTech, a leading supplier of wedge welders and extruders.  Our supervisors received hands-on training in repair and maintenance best practices.  "Demo" Dave and Gus from team DemTech led the training.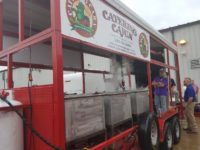 It was a long week for our team.  The good work was rewarded by our equipment rental partner, Blue Line Rentals, who on the last day of training sponsored a good 'ole Louisiana crawfish boil.  The caterer, Catering Cajun, knew what they were doing and organized a great feast for the team.  The mudbugs were fantastic, as confirmed by the team consuming 500 pounds of them suckers during the lunch hour.
Closing
We had a fun and productive week that prepared us for the upcoming construction season.  The safety message with other important training will aid our employees in the field and help ensure safety for all.  Keep the good work, team, and remember…
KNOW SAFETY… NO ACCIDENTS!